✨ 5 Ways To British Up Your Christmas Holiday ✨
Now Halloween and Fireworks night is well and truly behind us, it's time to start thinking about the next British celebration: Christmas. Here's GoUni's top tips to enjoying it the British way.
✨ Stockings 🎁
Santa gets his inspiration from a 3rd century bishop, Saint Nicholas. Legend has it that he once donated gold to three poor women so they could get married by leaving it in a stocking.

This lead to the idea that Santa would leave small gifts for children in a Christmas stocking. 
Stockings are traditionally left hanging over a fireplace or at the end of the bed waiting to be filled on the night before Christmas.
✨ Crackers 🎊
This is a Christmas cracker. You hold one end and offer the other to a friend or family member. You each then pull until it breaks making a crack sound due to a tiny explosive inside.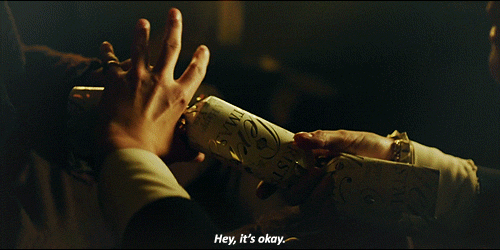 Whoever ends up with the big bit in the middle gets to keep what's inside, usually some small toy, a paper crown and a bad joke you have to read. 
They might be hard to find if you don't live in a Commonwealth country, but you could make your own.

✨ Christmas Dinner 🍗🥂 
Christmas dinner is basically just a big Sunday roast, but with with a few traditional additions. 
As well as the roast meat, potatoes, root vegetables, Yorkshire pudding and gravy, Christmas dinner may traditionally include pigs in blankets (sausages wrapped in bacon!!), Brussels sprouts, cranberry sauce and bread sauce.

✨ Queens's Speech 👸🏼
The tradition of sending out a Christmas Message to the public began in 1932 with George V. Current day the Queen gives a televised speech on Christmas Day at 3pm in England. 

You can gather around the tele with your loved ones and watch it on BBC… that's about prime Christmas present opening time on this end with the time difference. 
✨ Next Year 🗓
Brits say you need to take your tree and decorations down within 12 days of Christmas or you'll have bad luck for the next year. 
Don't be that house on the street with blinking lights that go on through Valentine's Day! Get that stuff down and get on with the New Year!

Leave A Comment
Connect With Us
We'll Keep you updated with alerts, news and help where you need it