✨ Eurostar to go London-Amsterdam from April 4 ✨
Eurostar are launching their new London-Amsterdam direct route from April 4. And London-Brussels will take just 88 minutes!
The new service, running twice daily from St. Pancras International, will whisk you to the Dutch capital in just 3hrs 41 minutes. That's quicker than you currently get to Edinburgh, thanks to the screamingly snel (and all-new) 300kph Eurostar trains. The journey to Brussels, on the same route, is now just 1hr 28.

On the return journey, you'll initially have to change train at Brussels for passport control, due to some bureaucracy that Eurostar hope to have sorted sometime next year. That adds about an hour to your journey, still taking just 4hrs 40 overall.
Tickets for this all-new route (which also calls at Rotterdam in just three hours) go on sale on February 20, with one-way prices from just £35. Although flights are quicker on paper, you only need to check in with Eurostar thirty minutes before departure, and for many Londoners St. Pancras is rather easier to get to than the schlep to Stanstead. Factor in your arrival right in the heart of the Dutch city and it compares pretty favourably, not to mention you'll be emitting 80% less carbon into the poor atmosphere. What a hero you are!
So, the Netherlands won't be such a Neverland for long, and you'll have the chance to join one of their 300 annual festivals, cycle along a canal, or partake in other stereotypical activities. And no more airport drama. Lovely!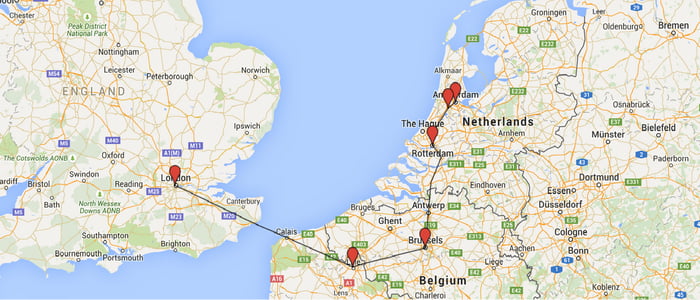 Credit: Secret London (https://secretldn.com/london-a...)
Leave A Comment
Connect With Us
We'll Keep you updated with alerts, news and help where you need it